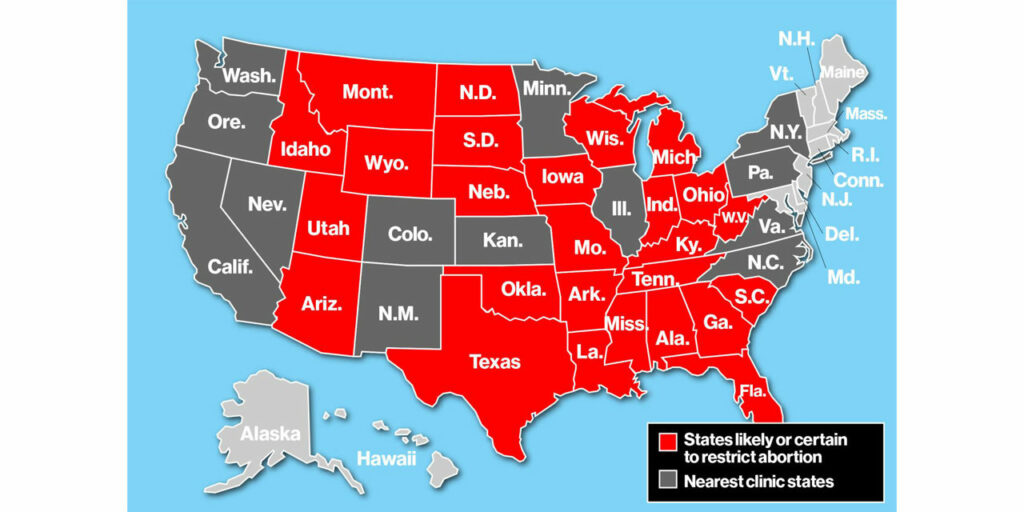 States' legislation protects preborn —  Sister Diedre Burne, speaking at the Republican National Convention, called President Trump "arguably the most pro-life president ever".  The current occupant of the White House is arguably the most pro-abort president ever. But we must take heart.  Maybe sometimes there has to come a radical apostasy before the pendulum can swing the other way and a renewal of values can be brought about. Perhaps it has.
There is an ever increasing tide of young people standing up for the equal humanity and personhood of the preborn child.  Many of them will be voting in the next election – and the states, on their own, are beginning to stand against the fallacy of Roe and enact legislation protecting preborn children.
Just last May 20th, Thomson Reuters Foundation News (TRFN) reported "Reproductive health research organization The Guttmacher Institute says abortion rights are under "unrelenting assault", with 15 states having enacted 70 restrictions on abortion since January, including 10 bans."
TRFN then gave the following "snapshot of what is happening in some U.S. states":
"MISSISSIPPI – The Supreme Court has agreed to hear Mississippi's bid to revive a Republican-backed state law that bans abortion after 15 weeks of pregnancy, a case that could undercut the 1973 ruling, known as Roe v Wade, that legalized abortion nationwide.
The Supreme Court ruling is expected next year.
LOUISIANA – Lawmakers have approved a similar ban but it will not take effect before Mississippi's law is decided upon.
ARKANSAS – In March, Arkansas banned all abortions except in medical emergencies, making no exceptions in cases of rape or incest. The law is due to take effect in August. Supporters hope it will force the Supreme Court to revisit Roe v Wade.
OKLAHOMA – Republican Governor Kevin Stitt signed an outright ban on abortion in April due to come into effect in November.
In anticipation of potential legal challenges, he also signed an alternative law banning abortion from six weeks, which also states that a doctors performing an abortion after this time would be guilty of homicide.
ARIZONA – Republican Governor Doug Ducey signed into law in April a measure banning abortions performed because of genetic disorders like Down's syndrome or cystic fibrosis, unless the condition is considered lethal. The law is scheduled to take effect later this year, probably August.
MONTANA – The Republican-led legislature passed several bills in April restricting access to abortion, including banning terminations after 20 weeks. The measures are due to take effect in October.
SOUTH CAROLINA – Republican Governor Henry McMaster signed a law in February outlawing abortion once a fetal heartbeat is detected. The law is on hold pending a legal challenge by Planned Parenthood, the nation's largest abortion provider.
TENNESSEE – The state passed a sweeping measure in 2020, which included banning abortion as early as six weeks, and requiring patients to be told about a possibility of reversing medication abortions, which is disputed by many medical experts.
Most of the law has been blocked due to a legal challenge. However, a provision banning abortions based on a Down's Syndrome diagnosis is in effect.
OHIO – A federal appeals court ruled in April that Ohio can enforce a 2017 law banning abortions when medical tests show that a fetus has Down's syndrome. Ohio also approved a bill last year requiring fetal tissue be cremated or buried.
KENTUCKY – The attorney general has asked the Supreme Court to reinstate its ban on the dilation and evacuation method, typically used in second trimester abortions. The ban was signed into law, but struck down by a court in 2019. Abortion rights advocates say it would effectively outlaw abortions after 15 weeks of pregnancy.
IDAHO – "Choose Life" license plates went on sale in January for $35. Similar license plates are available in 33 states, with 18 donating a portion of the revenue to anti-abortion efforts, according to the Guttmacher Institute.
PENNSYLVANIA – In March, abortion providers lost a court challenge to a ban on the use of state Medicaid funds for terminations. They will appeal to the state Supreme Court.
MISSOURI – A 2018 law banning abortions after eight weeks is on hold due to legal challenges. (Thomson Reuters Foundation News, U.S. states making 2021 moves on abortion rights and access, May 20, 2021)"
Encourage your state to join the chorus and enact legislation that honors the Commandment "Thou Shalt Not Kill".
Sister Deidre Byrne Speaking at the Republican National Convention