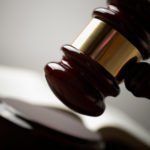 Dear Family and Friends of the Preborn Child,
Our nation and indeed the world, longs for victory over our common enemy: ISIS.  King David, long ago, wrote a psalm of praise for victory over enemies: Psalm 9.  The pastors of our churches need to take it up at this time and preach it in their homilies and sermons to their congregations.
But before "victory" must first come the battle.  As battle-worn as America is these past 14 years since 9/11 2001, the battle is not over yet.  Indeed, a new phase has begun in this war of terror.  We need the God of Heaven's Armies on our side.  How do we do that?  King David and others told us.  Moses had learned and taught the lesson.
God is an all-loving, all-forgiving God, but His patience is tried when we cast Him aside for other gods.  He is a jealous God and rightfully and righteously so!  Moses and King David would be among the first to tell us that God sometimes punishes his people, whom He loves, by allowing their enemies to overrun their camps and to scale the walls of their cities fine (the twin towers).  There are examples in scripture where God even raises up a fierce, merciless enemy to punish His people who have turned their back upon Him and have begun to embrace as a people, as a nation, those things which are abominable to Him.
It is one thing when individuals sin against God and commit that which is abomination.  It becomes quite another thing when the King (or in a democracy, the President) of a nation champions that which is an abomination to God (the killing of preborn children; homosexuality) and appoints members to the nation's high court (in the U.S. our Supreme Court) to memorialize immorality and the breaking of the commandment 'Thou shalt not kill' (abortion) in the law.
On June 26, 2015 our own nation's high court sought to make sodomy a sacrament.  They sought to elevate it to the altars of the people's houses of worship.  Sin is sin in the eyes of God.  The desire to change that on the part of the King with an edict of the courts cannot and does not change that. But it's the same old story, God hates the sin, but loves the sinner.
Billy Graham spoke to the nation from the Washington National Cathedral three days following 9/11 at the invitation of President Bush.  His words were appropriate then and have become urgent today.  (Click here to view a portion of Billy Graham's speech.)
On June 26, 2015, (the Supreme Court's legalization of 'homosexual marriage') the stench of the sin that this nation is permitting and even fostering reached high heaven.
Not one of our governors has had the courage to stand against this.  Only a few humble court clerks.  They know it's wrong and even if it costs them their job, they refuse to issue 'marriage' licenses for that which is not a marriage, but which only makes a mockery of God's holy institution of matrimony.
Psalm 9 is King David's psalm of praise for victory over enemies.  It is God and God alone that gives the true victory.  American needs a national 'Day of Prayer and Remembrance', calling for a spiritual renewal in our land and asking God for forgiveness.   This President will not call for it. The governors need to step forward and have the courage to do so.  They need to borrow a page from the statesman Ronald Reagan who, before he took his oath of office for his second term, let it be known that his mother's Bible, upon which he would place his hand, would be opened to Second Chronicles 7:14 because he believed it was a message to our nation at that time.
"IF MY PEOPLE, WHICH ARE CALLED BY MY NAME, SHALL HUMBLE THEMSELVES, AND PRAY, AND SEEK MY FACE, AND TURN FROM THEIR WICKED WAYS; THEN WILL I HEAR FROM HEAVEN, AND WILL FORGIVE THEIR SIN, AND WILL HEAL THEIR LAND." II CHRONICLES 7:14
Yours very sincerely and respectfully,
R. Martin Palmer
Click here to share your comments, questions and concerns.